Miory District has 38 agrotourism facilities.
There are tourist companies
"POLOSATY REIS": 49B Kommunisticheskaya Street, Miory
polosaty_reis@tut.by Fax: (02152) 43060, (029) 8989901, (029) 3091441;
"HALBERG": 28 Komsomolskaya Street, Miory Phone: +37529 591-12-95
The companies offer the following tourist routes: "The Silver Ring of Miory District", "The Bronze Ring of Miory District", "The Small Golden Ring of Miory District", four routes in the Yelnya wildlife preserve, "The Water Route", "The Bicycle Route", "Miory-Disna", "A Trip in Miory-1", "A Trip in Miory-2", "The Miory World Tour", ecological hikes, etc.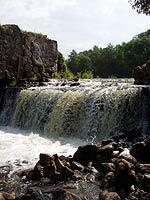 The name of the project:
The waterfall on the Vyata River, the development of a recreation zone
Description of the project:
The unique waterfall was created by the man and nature. In the beginning of the 20th century, a board mill operated there. The mill produced cardboard from the local aspen tree. For many years, owing to the waterfall a local power plant had provided electric energy to the neighboring towns and villages including Miory. But over time the plant got deteriorated and closed down in the 1960s. Today, the waterfall, a favorite spot of the locals and the guests of the region, is waiting for those who will be able to revive its history and bring back the original beauty that this beautiful place was once. The nearest settlement is the village of Suromschina (5km).
Project Status:
Pre-investment phase:
1. The repair of the road to the waterfall; construction of a parking lot
2. Site development (camp, fire place, garbage place, WC)
3. The construction of a convenient access to the river (stairs, parapet)
4. The repair of the waterfall; safety conditions creation


Financial and economic parameters
The estimated cost of the project has not been determined
Projected investments: Br1 billion 700 million
Investment source: investors' funds
Payback time: not determined

Proposals for investor
The investment attractiveness of the project:
- popular recreation zone
- historical value
- attraction of a great number of tourists

Form of participation: any form
Information:
The Povyatie Rural Executive Committee, the Miory Region
Address: 211 939 Povyatie, Miory Region, Vitebsk Oblast, Belarus
Phone: +375 2152 32318; +375 2152 32344;
Chair of the Povyatie Rural Executive Committee – Lutsia Gardel


Leanpol Estate and Gardens
The property holder is the Integral Research and Production Corporation (Minsk). A part of the estate, as agreed with the Culture Ministry, is used by the religious community of the Roman Catholic Church (the Parish of the Christ the Almighty of the Roman Catholic confession). The first owner was Nikolai Tadeush Lopatinsky. He constructed the manor house circa 1750. During the events of 1863 the house was burned down. In 1905 it was reconstructed for the wedding of A. Lopatinsky. After the war the estate housed an agriculture college, a school for children with special needs. One of the buildings housed the administration of a kolkhoz.